I am member of the Foremost buying group and stock most of the leading brands. I am a great believer in custom fitting and strongly recommend that any customers take advantage of my extensive knowledge when coming to choose their latest purchase. Please dont hesitate to ask for any advice. I will be happy to welcome you to Wishaw and help you to get the most from your visit.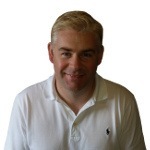 David Park - Head PGA Professional
I was born in Motherwell and was brought up in Wishaw, learning to play golf there with my dad, John. My lowest handicap was +2 and I won the Wishaw Club Championship on two occasions - in 1994 and 1996. I went on to represent Lanarkshire at boys, youth and senior Level.
During my professional playing career, I play actively on the Tartan Tour. I have won various events over the years and some of the highlights were Scottish Assistants order of merit winner 2002, Clober Pro-Am winner 2006, Bahrain Open champion 2006 and most recently King Hamad Trophy winner 2009.
On the work front, I started my career at the prestigious Turnberry Hotel. Moving on from there I worked at Clydeway Golf Centre, Wishaw Golf Club before taking up the post of Head Professional at Carnwath Golf Club. During the winter months from 1999 to 2010 I worked in Bahrain at Awali Golf Club.
Most recently I have been working at Pumpherston Golf Club for the past two years, before taking up the opportunity to move back to my home of golf - Wishaw.
---